(Click the pic if you want to join in)
As I'm late with my Rocking Friday post,
I'll just dive in with my list of 'gratefuls'
She's still with us, phew!
She had a 'funny turn' this week which
scared the life out of me (and her)
We all love our girl so much.
She also seemed to be getting extra hungry
(and she is a skinny old thing) so she now has
her own Weetabix and milk for breakfast
At last I seem to have found a way of getting
her tablets down her throat without causing
her, or me, too much angst.
Thank goodness, it has been VERY stressful!
Playing with my Gelli plate
.
Having managed to LOSE the Gelli plate sent
to me by Gelli Arts (I really don't know how -
it must be in 'The Safe Place' never to be seen
again) I gave in and bought another one.
watched the first two videos,
It's very early days, and I know these
are nothing compared to some of the
beauties being presented on loads of blogs
BUT it is such fun and very addictive!
I printed all of mine onto old book pages.
I was just having a play so wasn't planning to use any of
However I decided to use these two pages
in my art journal (wip) - the mole is a
I can't wait to have another go!
I really enjoyed my day out with
Grant in London (blogged
HERE
),
and I'm looking forward to going with
and I hope you have a lovely weekend :)
a couple of arty links for you:
Thank you to
Linda
for pointing out that over on
Carolyn Dube's blog, A Colorful Journey, she is
running a FREE two week workshop called,
A Colorful Gelli Print Party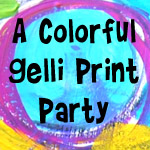 Click the buttons for all the details.